Dubai Properties
Le Cièl is the name of the last phase of the new Dubai project Port de La Mer by developer MERAAS. Launch will be 16 December 2021.
Expected completion: 1st Quarter 2025
Port de La Mer, Le Cièl location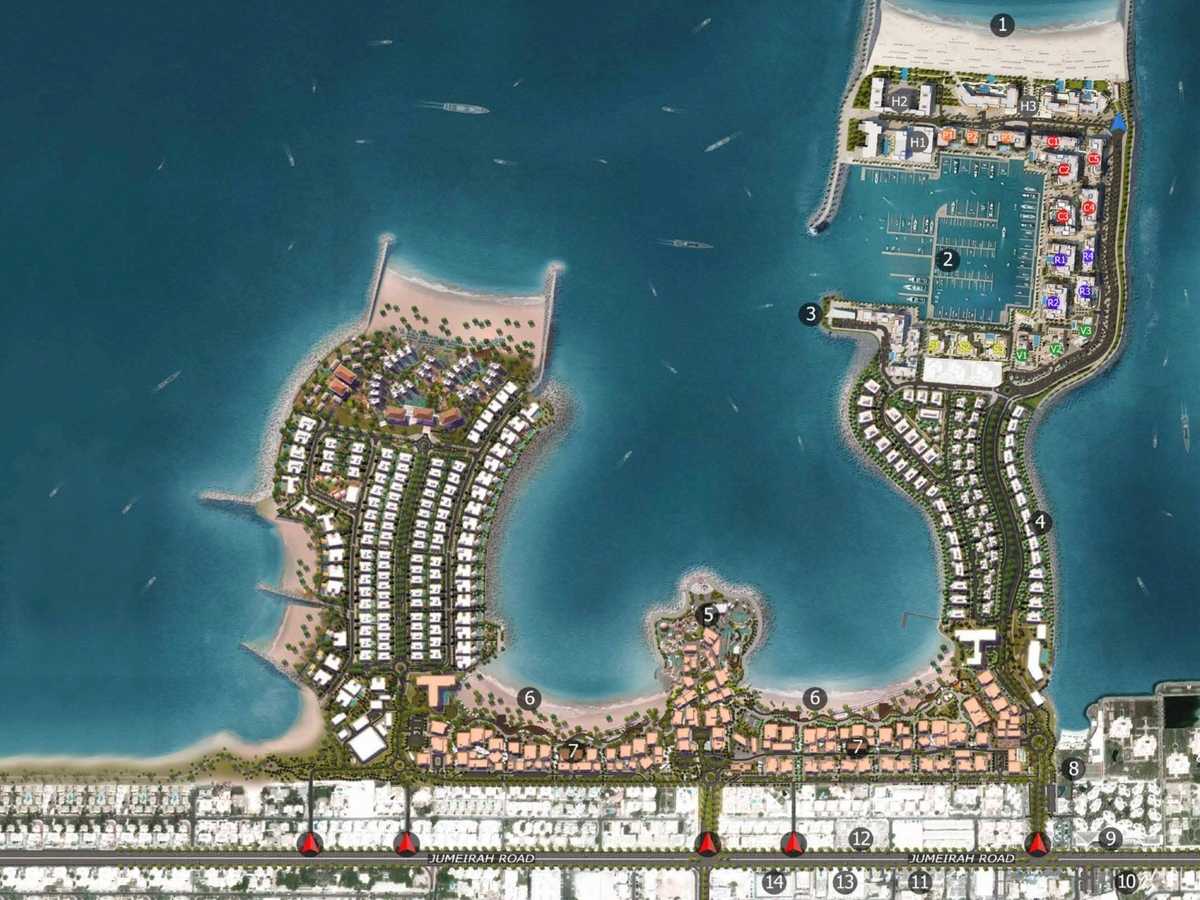 Le Cièl is easily accessible from all major road networks. Located within La Mer and only minutes away from City Walk, a short drive away from Dubai's International Airport, and for those who enjoy the glitz and glamour of Downtown Dubai, these benefits are all at your doorstep for you to indulge in.
Distances to important destinations:
15 minutes to the International Airport (DXB)
1-2 minutes walk to the private sandy beach
4-6 minute walk to the popular La Mer public beach
12 minutes to the International Financial Center (DIFC)
14 minutes to the city center (Downtown)
14 minutes to the Dubai Mall
4 minutes to the German consulate
Port de La Mer, Le Cièl apartments for sale
Register your interest in Le Cièl now for the best chance.
Newsflash
Meet us without obligation in Port de La Mer, the Mediterranean jewel at the sea in Dubai. We have bright and spacious 2- and 3-bedroom apartments with a breathtaking view to show.

We will be there for you on Saturday, 29 January 2022 from 5:00 p.m. to 6:00 p.m. Parking is best in front of the La Cote building 1.

Add this event to your calendar:

If you prefer to play it safe and meet the right contact person, you are welcome to make an appointment.

Current offers in La Cote, the first phase of La Mer, can be found in our online shop. Alternatively, we gladly send you the availability as an (Excel) sheet with ROIs, etc.

 

We wish all of our clients, business partners and friends good health, happy holidays and a happy new year. Thank you for your trust in 2021.

We look forward to more good business together and are very optimistic that the investments made will bring us all more financial independence, security and quality of life.

We have slightly adjusted opening hours (GMT +4) over the holidays:

24 December 2021: closed
25 December 2021: closed
26 December 2021: closed
27 December 2021: 10:00 a.m. - 5:00 p.m.
28 December 2021: 10:00 a.m. - 5:00 p.m.
29 December 2021: 10:00 a.m. - 3:00 p.m.
30 December 2021: 10:00 a.m. - 5:00 p.m.
31 December 2021: closed
1 January 2022: closed
2 January 2022: closed

From 3 January 2022 we will have normal opening hours again and the new weekend will apply.

 

With New Year 2022, Dubai, and thus we too, will introduce the western weekend on Saturday and Sunday. So far, offices and normal offices have been closed on Fridays in Dubai. That will change with the turn of the year.

For illustration:

From 2022
Monday:
Normal working day
Tuesday:
Normal working day
Wednesday:
Normal working day
Thursday:
Normal working day
Friday:
Shortened working day
Saturday:
Weekend
Sunday:
Weekend