Armani Residences Dubai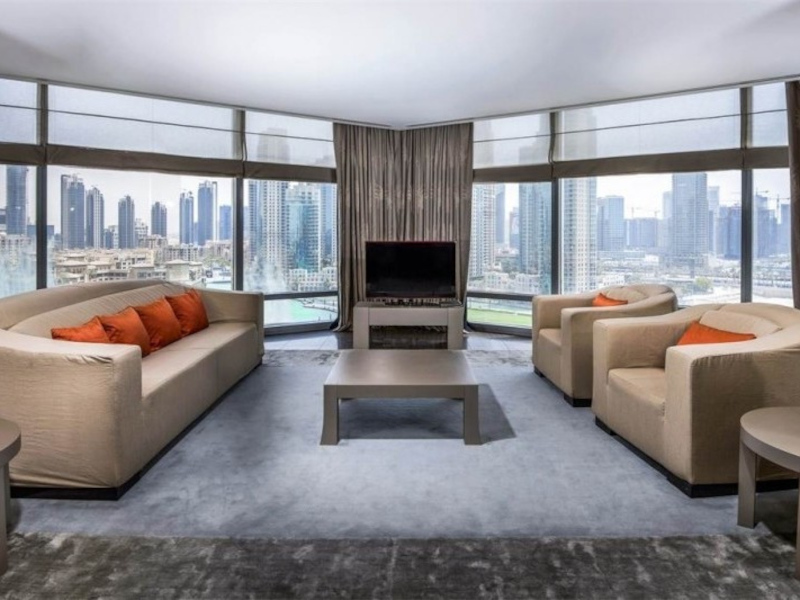 This marks the beginning of a new chapter in the Armani story
Giorgio Armani
The Armani Residences Dubai by Giorgio Armani are essentially the 144 most luxurious, fully furnished and fully equipped apartments in Dubai. Developer EMAAR handed over the freehold apartments to their owners ready for occupancy in spring 2010.
They are in the heart of the city, in Downtown, directly on the best floors of the Burj Khalifa below the Burj Khalifa Residences. The apartments on floors 9 to 16 can be easily reached with 4 lifts and offer an unsurpassed level of security, comfort and elegance.
There are a total of 96 one-bedroom apartments in sizes between 1,011 ft² and 1,263 ft² and 48 two-bedroom apartments in sizes between 1,926 ft² and 2,237 ft² in the Armani Residences in Dubai. There are no studio apartments in the Armani Residences Dubai. All apartments have floor-to-ceiling windows, wooden floors and a smart home system. All bedrooms have their own bathroom with bathtub, separate walk-in shower and bidet. All bathrooms are tiled in marble. Each apartment has an additional guest bathroom. All bedrooms have built-in/walk-in wardrobes. The designer furniture comes from the Armani Casa range. There are no balconies.
The in-house 160 rooms, 5 star Armani Hotel with business centre, spa, pool, 5 restaurants, a bar and the Armani Privé nightclub will fulfill your every wish. You can also use the breathtaking At.mosphere restaurant on the 122nd floor. In the impressive reception hall there is still the Armani Galleria with Armani accessories, Armani Fiori, a florist and Armani Dolci (mainly chocolate). Dubai Mall with more than 1,200 shops is connected by an air-conditioned corridor and can be reached within a few minutes on foot.
Every resident of the Armani Residences Dubai has numerous sports facilities such as gym and tennis courts and the Burj Khalifa gardens at their disposal.
The basement parking bays in the in-house underground car park are easily accessible by elevator. Parking is not a problem and is taken care of by the valet service.
Armani Residences Dubai Location and Distances
All amenities of the city centre (Downtown) such as Dubai Mall, Dubai Fountain, Dubai Opera, Burj Park, numerous restaurants and hotels are in the immediate vicinity and can be reached on foot. The subway (Dubai Metro) is also within walking distance via an air-conditioned corridor.
11 minutes to the International Airport (DXB)
10 minutes to the popular La Mer beach
6 minutes to the Dubai International Financial Centre (DIFC)
14 minutes to the British Embassy
Armani Residences Dubai for Sale
We currently have 0 luxury apartments for sale in Armani Residences Dubai. The offers start from 2,000,000 AED (2,000,000 AED).
Some prices are negotiable and some come with an attractive payment plan.
We have 3 more luxury apartments for sale in Armani Residences Dubai for you from owners who prefer their property to be offered discretely.
Register your interest for Armani Residences Dubai now, to get the best new arrivals offered first or select your luxury apartment from the following availability list.